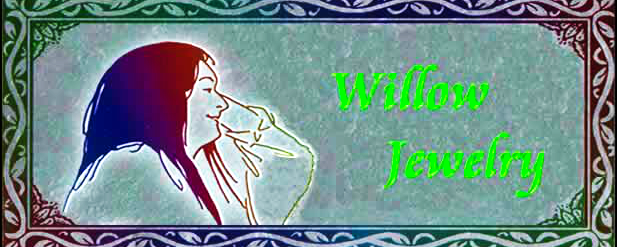 Celtic, Symbolic, & Aninimal Totem Jewelery
By Willow Zarlow
Willow's Story
I started making jewelry more than 45 years ago, inspired by several ancient works of art that came through Los Angeles, where I was living at the time. I loved the richness and variety of all the old Celtic, Chinese, Russian, Middle Eastern, and African designs, which seemed to touch something important inside me. Motivated to work on my own designs, I felt that I began tapping into other lifetimes that I have lived.
Being a big woman, I related to the goddesses. Animals are a big part of my life, and they showed up in my work. I studied shamanism, world religions and healing methods, which became represented as well. As I worked with the stones and crystals, they began to work with me. I learned how to use them and determine how they interact with and influence the health and well being of the stone's wearers.
I've had fun creating these pieces, and hope that you have fun wearing them. I do custom work as well. Feel free to call me and we will work together in finding what is right for you. If you represent a store I invite you to create a working relationship with me to stock your store with product created in love, that is more than what it appears to be. As they grow with the stones, some customers collect my work – which is ageless and timeless.
See this Bencia Magazine artical about Willow and her shop
STEVE DEUTSCH WOODWINDS AND WILLOW JEWELRY
Upcoming Shows
158th Scottish Highland Gathering & Games
Alameda County Fairgrounds in Pleasanton
August 31 & September 1, 2024
Visit Willow' Shop
Store Location:
560 1st Street, Suite D100, Benicia CA 94510
Store hours:
Wednesday – Friday 11:30am – 6:30pm
Saturday 11:00 – 5:00pm
Willow shares the shop with her husband Steve. See his website at Steve Deutsch Music. To find their shop, walk into the courtyard next to Double Rainbow and turn right. You will see a sign for the shop in front of you instructing you to then turn left at the fence.  See pictures…